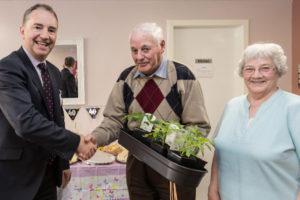 Residents at one of our sheltered housing complexs in the Borders were presented with gifts for the garden at a lunch to celebrate a major anniversary in the history of the site.
We made the presentation at a lunch organised to celebrate 40 years since the site at Earlston was opened in 1976.
Containing 21 rented sheltered housing units, our Earlston site is handily located just off the high street in a quiet location providing residents with all the benefits of living in the picturesque Scottish Borders under a 50 minute drive from Edinburgh and just a few minutes' drive from Tweedbank.
The presents were chosen after Earlston Community Council thanked residents for creating a "beautiful and colour-filled area" in their garden which made the village more attractive for visitors and locals alike.
Amongst the gifts were spring and summer planters, crocuses and daffodil bulbs and a selection of tomato plant varieties, a particular favourite of the residents.
Presenting the gifts, Hanover Scotland Director of Customer Services, Chris Milburn said: "I am delighted to be here to join our residents in celebrating the 40th anniversary of the Earlston site.  The residents live independent lives, and are keen to follow their own interests including gardening, whist having the peace of mind of living in a vibrant sheltered community."
"Next week is National Gardening Week which emphasises the role of gardens in improving our communities as well as encouraging people to spend more time in their gardens as well.  With the well-deserved recognition of the work done by the residents here in improving the local area, these gifts are very appropriate!"

Print this page