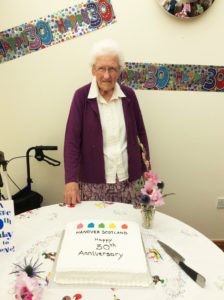 Residents at a sheltered housing complex in Banff were treated to a spot of afternoon tea at the end of August to celebrate a major anniversary in the history of the site.
To celebrate 30 years since the site at Airlie Gardens was opened in 1986, the development arranged for  residents to celebrate in style and treated them to a selection of culinary delights such as scones, chocolate éclairs, vol-au-vents and a special celebratory cake.
Containing 46 rented sheltered housing units, Airlie Gardens is handily located just minutes away from Banff town centre providing residents with all major amenities.
Doing the honours of cutting the special 30th anniversary cake was Airlie Gardens' oldest resident, Mrs Mary Alley, who was born on July 9th 1920 and has lived at the development for over six years.
Commenting on the celebration she said:
This afternoon has been delightful and I was so pleased to be asked to cut the cake. I have been very happy at Airlie Gardens and celebrations such as today's make life here all the more special."
After the celebration, Jacqui Degnan-Scott, Sheltered Housing Manager for Airlie Gardens said:
It is great that we were able to organise this special celebration to mark the site's 30th anniversary, afternoon tea has been a lovely treat for the residents!

It has been a great excuse to come together for a party and I look forward to the next opportunity we get to celebrate a milestone anniversary."
Pictured: Mary Alley, Airlie Gardens' oldest resident, getting ready to cut the commemorative cake.

Print this page