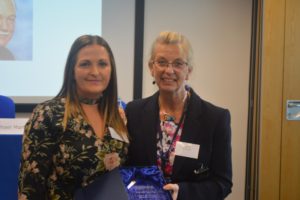 We had an excellent turn out for our Annual General Meeting this year at Hanover Scotland, with more than 80 Association Members, staff and other guests gathering at our headquarters in Edinburgh.
The business of the meeting included a brief report from the Chairperson, a financial report and a showcase of the year's achievements, which included opening our new Housing with Care facility in Forres and retention of our Investors in People status. Hanover also marked a number of milestones for developments including a 40th anniversary for Hanover Close in Earlston.
This was our first AGM to be attended by members of Hanover HEART, our new customer panel. HEART members are drawn from our residents and the role of the panel is to work together with staff to consider how Hanover's services are delivered and what improvements can be made.
Attendees at the event welcomed the appointment of a new Board member, James Rowney of the Royal Bank of Scotland. Gary Devlin, Oonagh Gil and Neil Rennick were also re-elected to the Board. Retiring members Ann MacDonald and Alan Savage were thanked for their excellent past service and commitment to Hanover.
The gathering was also treated to a presentation by award winning cartoonist Tony Husband. Tony's cartoons have appeared in many newspapers, books and websites and in several TV and theatrical productions. They include Private Eye, The Times, Punch, The Sunday Express, The Spectator and The Sun. His cartoons are often found on humorous greeting cards, and he has a regular cartoon strip in Private Eye entitled Yobs, which has run from the late 1980s. Tony illustrated our 'Getting Involved' publication, a guide for customers on the ways in which they can engage with Hanover and help to shape the organisation.
Tony has written and illustrated a very moving book about his family's journey through his father's dementia, called 'Take Care Son'. He explained to the audience what had prompted him to write the book and took us through his father's battle with dementia, accompanied by the cartoons contained within the book.
Finally, a number of staff, both individuals and teams, were presented with awards for outstanding service, leadership and development, including Operations Manager Michelle Kennedy who received the Chief Executive's award for her work over the last year.

Print this page