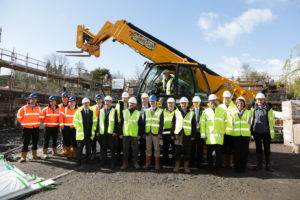 Construction apprentices joined councillors, contractors, dignataries and staff from Hanover at an event to mark the progress of the building of a £1.6m development at Waterford Court in Giffnock, East Renfrewshire.
Our new amenity housing development will feature 12 fully insulated and energy-efficient flats for rent to older people and is expected to be completed in November.
Staff, including our Chief Executive Helen Murdoch, and East Renfrewshire's Councillor Jim Fletcher, joined other staff from Clancy, Robert Potter Architects, TCS and Ashleigh Scotland, whose apprentices have been doing a great job whilst learning at the same time.
The Waterford Court site previously featured 13 very sheltered properties, however Hanover – working in close partnership with East Renfrewshire Council and the Scottish Government – identified that amenity housing was more suitable for the area.
The new flats will be made up of three, two-storey blocks with every flat designed to make the best use of space.
Commenting on the progress to date, Mark Farey, Hanover's Director of Asset Management, said:
We're delighted that we're well on the way to providing these much needed new homes in Giffnock. The re-development of Waterford Court is a perfect example of how Hanover is adapting to the changing needs of older people."

Every property is designed to make the best use of the space and light available, and we've taken great care to ensure they are as energy-efficient as possible, in order to keep costs to residents at a minimum. We look forward to welcoming new residents moving in from the end of the year."
Pictured: Helen Murdoch, Chief Executive of Hanover, takes the controls of the machinery with staff from Hanover, Ashleigh (Scotland), Clancy, TCS, Robert Potter Architects and East Renfrewshire Council.

Print this page