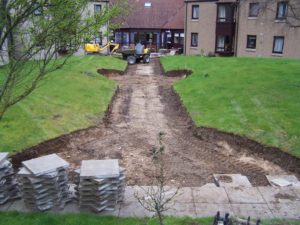 Residents of Hanover's Burnside Court in Buckpool are celebrating after receiving an amazing £10k grant to improve their garden, thanks to help from a local army barracks.
The award was made by the National Lottery after soldiers from the local 29 Engr Regiment at Kinloss barracks carried out ground survey work, which provided the residents' association with the vital information needed to make their application.  Residents had already raised a very respectable £1,000 but the extra cash injection from the National Lottery means they can put their plans into place.
Derek Thompson, chairperson of Burnside Court Residents' Association said:
We're delighted that our grant application has been approved and we can now make better use of the garden area. The residents' association is keen to be as active as possible and to organise ourselves effectively. Once this work is complete, we have lots of plans for what we can do next."
Marie Buchan, Sheltered Housing Manager at Burnside Court, said:
What the residents have achieved is absolutely fantastic. As you can see, the residents are very independent and want to live their lives with little or no interference from us. All the ideas and work has come from them and we have just offered whatever support they have asked us for."
Work on more communal space, an outdoor bowls lane, French boules court and a small putting green is now well underway, and residents plan a summer opening party to celebrate its completion.
Pictured: The improvements to the garden take shape.

Print this page