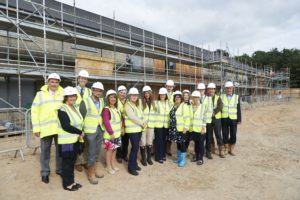 A group of dignitaries were shown around the site of a new £6m affordable housing development in Elgin this week, the construction of which has been made possible through a strong partnership between Hanover, Moray Council, The Scottish Government and Health and Social Care Moray.
The development, at Glassgreen in Elgin, which features 30 two-bedroom flats,  incorporate a communal Hub which contains a reception area, common room, office/meeting room, toilets and kitchen/café area on the ground floor, as well as a sleepover suite and toilets on the first floor
Four of the properties will be wheelchair accessible and six will be designed for people with dementia. It's due to be completed at the end of July 2017.
Cllr Lorna Creswell, Chair of Health and Social Care Moray, was shown the progress of the new development, with local councillor James Allan as well as Hanover board members and staff.
Glassgreen is the second Hanover development of its type in the area, with the first one nearing completion at Leask Road, Forres. Every flat is:
designed for flexible use;
designed to maximise the use of space;
is well insulated; and
even features an air source heat pump to reduce heating costs.
Work began on the site in late March 2016.
After the visit, Cllr Lorna Creswell commented:
The new Hanover complex in Forres is almost complete and ready to accept residents. I was delighted to see further modern housing for those with care needs being built in Elgin. I'm keen to see them established and ready for people to move in next summer."
Hanover Board member, Alison Petch, said:
We want people to remain in their own homes with their own front doors. We will be able to provide 24-hour support in our specialist dementia flats and an innovative extra care service in the other flats."
Pictured: Dignitaries and Hanover staff at Glassgreen.

Print this page