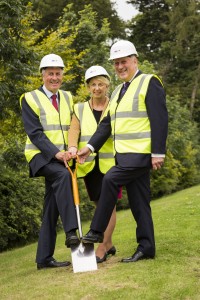 John Scott MSP helped dug the first sod at Doonholm Road in Ayr, which will consist of 28 high quality amenity and general needs homes for rent.
Doonholm Road is a partnership project with South Ayrshire Council, and the design makes best use of passive solar gain technologies meeting all 2010 Regulation requirements and exceeding 2010 Energy Efficiency requirements. The total cost of the development is £3,052,000 and this has been funded through a mixture of grant funding (£1,680,000) and private finance (£1,372,000). The development is scheduled to be completed by June 2016.
Also at the event were Hanover Board Member, Derek Fothergill and Hanover's Chief Executive, Helen Murdoch.
John Scott MSP said: "I was delighted to attend and to help cut the first sod of this new development which will provide much-needed high quality housing locally. This is a great example of partnership working between a housing association, the Council and the Scottish Government, and I very much look forward to the development being completed and families moving in."
Helen Murdoch said: "It's fantastic to welcome everyone here to mark the start of building at our latest housing development in South Ayrshire. I'd like to thank John Scott for taking time out of his busy schedule to join us.
"We have an excellent working relationship with South Ayrshire Council and this development at Doonholm Road is the result of this partnership working.
"The site is in a beautiful location, perfect for older people's housing and I look forward to seeing the development once it is completed in June next year."
Pictured: L to R – Hanover Board Member Derek Fothergrill, Chief Executive Helen Murdoch and John Scott MSP

Print this page