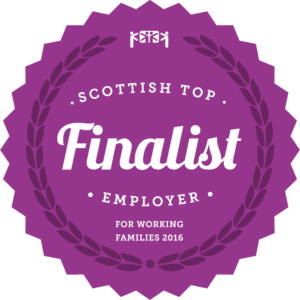 The work Hanover does in ensuring it has family-friendly policies has been recognised after we reached the final of the Family Friendly Working Scotland (FFWS)  "Top employers for working families" awards.
Hanover offers a range of flexible, family-friendly policies and benefits to all staff, including job sharing, compressed hours, home working and career breaks.
Benefits also include child care vouchers, a 'cycle to work' scheme, purchase of additional annual leave, enhanced maternity pay and generous special leave entitlements for family emergencies.
Hanover reached the final of the 'Best Large Public Sector Employer' category.
The award is coordinated by the FFWS programme, which supports and promotes the development of family-friendly workplaces across Scotland.
Their ambition is to make Scotland a beacon of excellence in family-friendly working practices, bringing huge benefits to employers, employees and wider society.
FFWS was set up in 2014 with Scottish Government funding and support. It is a collaborative network between Fathers Network Scotland, Parenting Across Scotland, the Scottish Government and Working Families.
Bob Stewart, HR Manager at Hanover, said:
We're delighted to reach the finals of this award. Our staff are our most important asset and having good family-friendly benefits is essential. Of course, whilst we're very happy to be a finalist, we're not resting on our laurels and by continuously reviewing our benefits we're hopeful we can go one step further next time."
For more information about Family Friendly Working Scotland, see their website.

Print this page