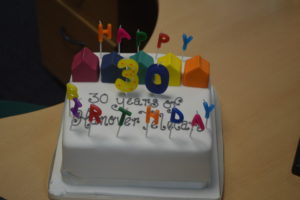 1987 was the year of Strike it Lucky, Karaoke, smiley faces on your clothes and Rick Astley in the charts. It was also the year that Hanover launched its Telecare Monitoring Service, run from Flat 19 in Veitch's Square, one of our Sheltered Housing developments in Edinburgh. A staff member recalls:
"It was a home from home. You slept in the flat if you were on night duty. You could be in the bath when the emergency alarm went."
Hanover soon started to provide the service to other organisations and today our Customer Service Centre, based at both our Edinburgh and Glasgow offices, provides Telecare, Out of Hours Repairs and Lone Worker services to over 50 different organisations with over 40,000 connections across Scotland – from Dumfries to Shetland – and handles over a million calls a year!
To celebrate the occasion and to recognise how far we've come, we had a celebration at our Head Office in Edinburgh, complete with cake, fizz (non-alcoholic of course) and nibbles.
We spoke to our two longest standing Telecare operators Tracy and Marion about their experiences over the years. Tracy said:
"On 24th August 1998 I started at 'Hanover Careline' having never worked a computer before. I learnt how to take calls and at that time send faxes.'
I have had some life changing events happen in my time here. I lost my dad, got married, moved house (6 times), watched my son Ian graduate from University and all with the support of my colleagues. The control room works at a busy hectic pace at times but with a great team and the banter, 19 years has passed very quickly."
Marion told us:
"I started with Telecare in October 1999, previously I was warden (as they were called at that time) at Kinlochleven then Fort William.  The technology has improved immensely, the equipment is far more refined and there is much more available for monitoring purposes.  Telecare is a lifeline for our clients, those living in remote locations with no near neighbours have the reassurance that they can get help when required.  We like a bit of banter with our clients when appropriate but the funniest calls are the ones when the dog or cat has set it off and all you hear is miaowing or barking in response to you asking if they are ok.  Best thing is when you have helped a client in a life threatening situation and you get feedback that they are well and healthy again."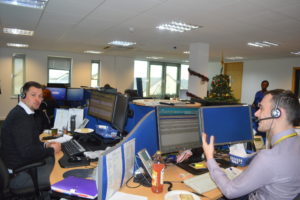 Print this page