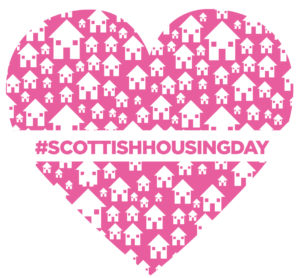 Hanover is one of Scotland's largest registered social landlords, specialising in services for older people. We have been providing housing since 1979 and we now manage more than 5000 properties across 24 local authority areas. We also provide a range of other support services such as telecare community alarm monitoring and housing with care.
We pride ourselves on offering high quality, affordable accommodation and going above and beyond to ensure that our residents are able to live healthy, happy and independent lives. The importance of the role played by housing associations in delivering housing and care services to older people cannot be underestimated and nor can the crucial role played by suitable housing in improving wellbeing.
As experienced providers, we are keenly aware of the evolving and diverse needs of older people in Scotland. The challenges we face in the coming years include; the growing number of older people as a proportion of our population, an increase in the number of people dealing with ailments associated with older age such as dementia and impaired mobility, and bringing health care back into the community.
Two of our newest developments in Moray have been built with these challenges in mind. A great deal of thought and expert design went into developing modern housing that suits the varying needs of older people in the Moray area. Crucially, we want people to remain in their own homes with their own front doors but have access to support as and when they need it.
The first of these developments is Varis Court in Forres, which was formally opened by the First Minister in July 2017.  Watch this short video to see what she had to say about the development.
The First Minister Nicola Sturgeon had an official tour earlier this week of one of Hanover Scotland's brand new housing developments for older people in Moray that uses pioneering design and research to bring health care back into the community.

Posted by The Scottish Government on Friday, 21 July 2017
Varis Court was developed by Hanover in partnership with Health and Social Care Moray and Moray Council. The development provides 33 individual flats with additional communal facilities and includes an augmented care unit of five flats, providing complex health care interventions in a homely environment. This allows people who no longer need to be in hospital but are not yet fit to return to their own homes to be discharged into a comfortable environment with access to medical care as necessary.
The emphasis is very much on our residents and putting the customer first and we have worked hard to create an environment in which residents feel at home. Varis Court is designed to let in as much light as possible, be easy to move from floor to floor, and there are plenty of open spaces for residents to relax and socialise in.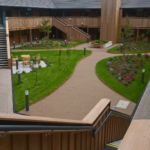 Our second development in the Moray area to use this model is Linkwood View, which opened its doors to residents this month. Linkwood View consists of 30 two-bedroom flats including four wheelchair accessible flats as well as extra care flats all in a single building. Every flat is designed for flexible use, maximises the use of space, is well insulated, and even features an air source heat pump to reduce heating costs.  By working in close partnership with Health and Social Care Moray, we have created a leading-edge blueprint for housing for older people and I am delighted that we have been able to develop modern and adaptable accommodation that reflects the evolving needs of our population. We will continue to build on this work as we go forward.
Below you can read about some of our more recently arrived residents and find links to case studies from other Hanover residents. These studies demonstrate the role that Hanover has played in providing simple solutions to allow residents to live independent and fulfilling lives.
Charlie and Margaret
Charlie and Margaret were the first residents to move into our new development Varis Court in Forres. They are both in their eighties and while they did not feel they were in need of a care home, they did want somewhere where they felt safe in the face of failing health.  Charlie was an officer in the Grampian Police Force and Margaret was a maternity nurse at Leanchoil Hospital. They used to live a mile out of town but having taken on a corner flat in the development, they have never looked back.
Margaret said; "It's wonderful here. We like the staff – they provide great care and make us feel very comfortable. It's just perfect. It's all we need at our time of life. We can have people to stay and it's a good size. We have a two-bedroom flat with a good-sized lounge, kitchen and shower."
"Varis Court is fine and handy for visiting the town," added Charlie.
Their daughter Elaine, a physiotherapist who works in an extended care community in Canada helped the couple move to Varis Court. On her return to Canada, she left a note saying:  "Mum, I am so happy, comforted and assured to know you and Dad will be taken care of with compassion and true care and concern. All the staff are wonderful."
For more stories from Hanover residents click here

Print this page