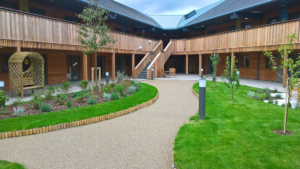 The design of Hanover's Linkwood View development in Elgin was commended in the major national awards after judges found the development was a "template to provide future care to a growing elderly demographic with dementia."
Linkwood View was designed and built by Springfield Properties and Kraft Architecture and has been commended in the Innovation in Housing category by the Saltire Society. The judges praised the way the design was focussed on providing the best accommodation for residents with long-term conditions, including dementia.
The site in Elgin is made up of:
6 flats – designed for dementia with design guidance from the Stirling Dementia Design Service
4 flats – designed for varying degrees of physical disability in conjunction with occupational therapists and tenant requirements
22 care flats – capable of being adapted to suit occupants' needs, whether physical or mental health related
It is one of a number of new Hanover Scotland developments in the Moray area, such as Varis Court in Forres opened by the First Minister last year, which we believe breaks new ground on how social housing can be delivered in the future. Linkwood View was developed in a partnership with Hanover Scotland, Moray Council and Springfield Properties.
Key features of Linkwood View which impressed the judges included:
Dementia design features such as glazed kitchen units, contrasting switch and socket face plates and skirtings.
Courtyard typology which creates a safe environment that can cater for varying stages of dementia & elderly care. The secure area creates opportunities to meet neighbours on the walkway and offers access to the first floor via stairs and lifts.
Flexible floor plans offering open or closed plan layouts, with flats designed to adapt to the changing needs of the residents. These include wide corridors and sanitary facilities for wheelchair accessibility, larger stores for wheelchair storage and hoists that can be retrospectively installed where required.
External walkways connecting all flats creating opportunities for residents to interact, whilst larger flats with additional bedroom encourages family to stay or have study rooms/home offices for continuing an active life beyond retirement.
The development is also at the cutting edge of environmental protection, with communal air source heat pumps and solar PV panels for all flats and shared spaces, which achieved 2017 Gold Active Carbon Emission savings.Helen Murdoch, chief executive of Hanover Scotland, said:

"We are delighted that, along with our partners Kraft Architecture and Springfield Properties, we have won this prestigious award. From the beginning of this project, Hanover, along with Moray Council, were determined that it   should become a leading light in the provision of new homes for people with long-term conditions such as dementia.

"It is a beautiful place to live and, since Linkwood View has opened, we have seen residents enjoying and benefiting from the development's first class design features and enjoying an excellent quality of life."

Springfield Properties, group partnerships managing director, Tom Leggeat, said:

"Linkwood View is an impressive facility. With Hanover, we've delivered a community hub tailored to suit a range of varying personal needs from general amenity and physical disabilities to full dementia. Using innovative and sustainable techniques and keeping costs efficient, we've delivered an architecturally excellent, highly functional facility.

"To have been commended by such a prestigious national body like the Saltire Society is fantastic recognition of what Springfield and Hanover have achieved with the facility. Linkwood View has already made a difference to the lives of those living there and their families.

"Following on from the success of Linkwood View, we are in discussions with other local authorities to replicate the model elsewhere in Scotland."

Print this page