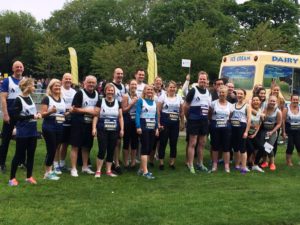 A Hanover team of runners has raised more than £1,200 for charity after taking part in a 5K race as part of the Edinburgh Marathon Festival.
The team of around 20 people was made up of staff, partners and friends and raised the fantastic amount for SANDS Lothian, a charity that helps bereaved parents and families with counselling and support following the death or stillbirth of a new-born child.
The idea came from Tracy Watt, a telecare operator at Hanover's head office in Edinburgh. She lost her two-day old son Lewis 25 years ago and her grief was made worse after it transpired her son's ashes had been disposed of without her knowledge.
Being involved with SANDS when that scandal broke was a godsend", Tracy said.

Scott Page, Hanover's Health & Safety Manager, knew I was into running and raising money for SANDS, so we met with Helen Murdoch (Chief Executive and another keen runner) and we decided to form the running group. Helen agreed to Hanover paying £10 for everyone entering the team, and SANDS agreed to supply the running vests, which promoted both SANDS and Hanover. What's astounded me is the amount of staff who joined in and created a real buzz in the workplace. We've even got many wanting to sign up for next year already!"
It's not too late to give to this worthy cause – head to Hanover's Just Giving page https://www.justgiving.com/fundraising/Hanover-Housing to donate.
You can also find out more about the great work SANDS does by visiting their website: http://sands-lothians.org.uk/
Pictured: The Hanover team and other SANDS Lothian runners celebrate after completing the 5k.

Print this page