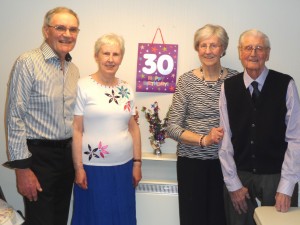 Claycot Park in Edinburgh celebrated its 30th anniversary in April with a fantastic party.
The sheltered development, privately owned by its residents where Hanover provides a factoring service, is located in Edinburgh's Corstorphine area.
Staff were delighted to receive invitations to the big event, none more so than our Chief Executive Helen Murdoch.
She said:
I'm very grateful the residents wanted me and my fellow staff to come along.  I like to research our developments, especially when I'm doing a welcome speech, and I found out some amazing information about Claycot Park and its surrounding area.

The best story for me concerns a lovers' tiff! The Laird of Corstorphine Castle in the 17th century was James Forrester – a popular man, but also fond of ladies and drinking!

He'd arranged to meet his lover – Lady Nimmo – at the dovecot (which is still there to this day) late one night.  They wanted to keep it a secret as Lady Nimmo also happened to be his niece!

Lady Nimmo waited for him for a quite a while and, when he didn't show up, sent her servant to some local hostelries. The servant found him but he was none-too-pleased to be interuppted from his drinking, and said some very unkind words to Lady Nimmo; who promptly took his sword and killed him!
The visitors to the party were also treated to some great stories about the characters who had lived at the development. One resident would only receive visitors if they gave her a bag of Devon Toffees, and another wore high heels all the time, so you could hear them clip-clopping down the corridor!
The stories were given to us by two of the residents who've lived at Claycot Park for more than 20 years – Margaret Robertson and Meg Turpin.
Helen also said:
Residents of Hanover-managed properties are the most important thing to us.  I was so pleased to find out how happy Claycot Park residents are. I heard so many positive reports – from how 'Claycot Park is the bees' knees', to how happy residents are with Hanover.
Pictured above are members of the social committee who kindly arranged the party.
Happy Birthday Claycot Park!

Print this page