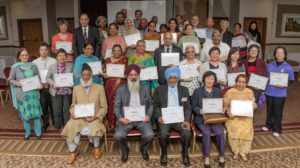 In June, ethnic minority older people who donate  time and passion to help other older people received certificates in recognition of the contribution they make to society at a multi-cultural event held during Volunteers' Week.
The event was co-hosted by Hanover, Trust, and Bield Housing Associations. Together, we jointly run the Older People Services Development Project – a Lottery-funded outreach project which enables older ethnic minority people overcome barriers to receiving benefits and access to services which can improve the quality of their lives and wellbeing.
The event, which took place near Falkirk, was the first of its kind to recognise and celebrate the volunteering contributions made specifically by older ethnic minority people. It co-incided with 'Volunteer's Week'  an annual celebration of the extraordinary contribution millions of volunteers make across the UK.
The event was attended by more than 250 guests, including 40 older ethnic minority volunteers (pictured), who were presented with special certificates recognising their contribution. The presentations were made by  Keith Wimbles, Chief Executive Officer (CEO) of Voluntary Action Fund, Rhona McLeod (CEO of Trust Housing Association), Adam Curry (Interim Director of Organisational Services at Hanover), and Brian Logan (CEO of Bield).
The 40 volunteers performed a variety of important roles, from:
helping at daycare centres for older people,
befriending and visiting vulnerable and isolated members of their communities, and
helping fellow older people to learn about and gain access to a range of services.
Hanover, Bield and Trust were keen to publicly recognise older people from a variety of ethnic minority backgrounds and communities whose voluntary work has helped underpin the success of the project.
Project Manager, Rohini Sharma Joshi said:
We are so grateful for the passion and dedication of these volunteers who regularly and generously give up their time to help others – they make a huge positive difference to the lives of many people. This event is about thanks and recognition and showcasing the contribution of older ethnic minority volunteers.
The volunteering contributions of ethnic minority communities in general frequently go unrecognised and unacknowledged. We would like to see more mainstream voluntary organisations actively encouraging ethnic minority older people to participate in mainstream volunteer programmes. It's important to raise awareness that ethnic minority older people have a wealth of experience and understanding of different communities and can make a meaningful wider contribution as volunteers."

Print this page