Hanover Scotland has successfully achieved Investors in Diversity Stage 2 re-accreditation.
The IiD standard is given to organisations that demonstrate cultural improvements around openness, understanding and acceptance of all people it works with.  It aims to transform practices and behaviours by promoting greater communication, discussion and engagement around the areas of equality, diversity and inclusion.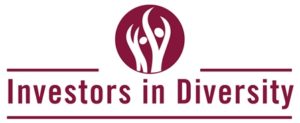 To achieve the re-accreditation, Hanover worked very closely with the awarding body –  the National Centre for Diversity – and a number of key stakeholders including staff and residents were interviewed about their experiences.
Hanover received its first accreditation in June 2013, which demonstrated how much was already in place as well as recommending a number of improvements. Since then, Hanover has continued to promote the initiatives that helped achieve its original accreditation, and has also put the recommended improvements into place, including ensuring its diversity strategy focused on workforce development and the equal and fair treatment of staff and customers.
Andrew Aitken, Hanover's Director of Organisational Services, said:
We're delighted to achieve this re-accreditation.  It's a fantastic achievement for the organisation and our staff and demonstrates our ongoing commitment to fairness and equality for all our stakeholders.

I'd like to thank everyone who spoke to the National Centre for Diversity and on behalf of Hanover would like to re-affirm our commitment to ensuring continuous improvement in  equality, diversity and inclusion.

Whilst the re-accreditation is of course great news and shows just how far we've come, we are constantly seeking to be better. We've already started to put plans in place to address suggested improvements made in the report and look forward to demonstrating our improvements at our next review in 2017."

Print this page