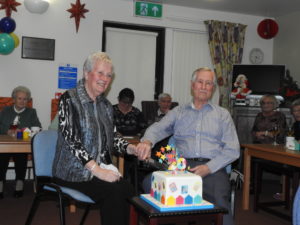 On Wednesday, residents of Hanover's Sivewright Court in Kincardine got together for a special lunch to celebrate 20 years since the development opened. One of the development's Sheltered Housing Managers, Amanda O'Donnell, organised the buffet lunch and the residents and staff enjoyed sandwiches, cakes, and refreshments kindly donated for the occasion by the local Morrisons in Alloa and the Coop store in Kincardine.
Two of Sivewright Court's original residents Mr and Mrs Knox, both 88 years old, had the honours of cutting the incredible homemade cake baked for the occasion by the development's cleaner, Lynn Devery. A renowned local baker by trade, Lynn made edible photographs of the residents which were then incorporated into the design of the cake, much to everyone's amusement.
Mr Hue Knox commented: "We've all had a great afternoon. My wife and I moved into our flat 20 years ago and we've never looked back. While we all lead very independent lives, there is a good sense of community here and it has been a most enjoyable afternoon."
Mrs Pearl Knox added: "What a party. We're already planning our 21st anniversary celebrations."
Sivewright Court is situated on Kirk Street, Kincardine and has a communal lounge where the residents regularly socialise and take part in various activities, including a residents' knitting group who make baby clothes for the neonatal unit at Ninewells hospital in Dundee. The development is currently fully occupied however those interested can apply to be placed on the waiting list. A Sheltered Housing Manager is on site five days a week.
Sheltered Housing Manager Amanda O'Donnell said: "This has been a terrific celebration. I'd like to thank everyone for making such an effort to mark this milestone and especially Paul Lappin, the Manager of Morrisons in Alloa, and Peter Toban, the Manager of the Coop in Kincardine, for kindly providing delicious food and refreshments."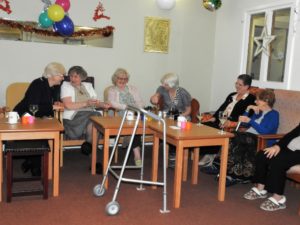 Print this page