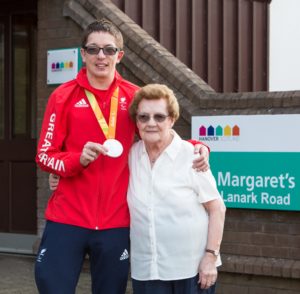 Residents of St Margaret's Court in Juniper Green were delighted to welcome a Paralympian silver medallist to their development, after he paid a visit to his Grandmother who lives at the sheltered housing development near Edinburgh.
Edinburgh-born Scott Quin won silver in the S14 100m Breaststroke event in Rio and visited his Grandmother May Patton, who's lived at St Margaret's Court for nearly 36 years. She previously worked as Sheltered Housing Manager at the development, retiring in 1991.
After the race, Scott called his Grandmother from Rio to tell her of his win, and May joked to 'mind your time for the phone bill'.
When Scott was born with Crouzon Syndrome, he was only given a three percent chance of survival and underwent major reconstructive surgery as a baby. At the age of 7, Scott started swimming and in last year's IPC World Championships in Glasgow, also won silver.
May has been with Scott every step of the way, attending as many of his swim meets as possible. She still goes with her daughter, Scott's mum Eileen, to collect him from his training at Heriot Watt University.
She said that watching the nail-bitingly close race from her living room in Edinburgh, in which Scott missed out on gold by just three-hundredths of a second, was "superb" and that she "erupted with joy" when finished with a silver.
I know all the hard work that he has put in and the countless 4am starts for his morning training sessions. Seeing him beam with happiness and standing on the podium in Rio is something I will never forget.", said May.
Tammy Easton, Development Manager at St Margaret's Court, said:
We are all so immensely proud of Scott. All of the development was egging him on and we can't quite believe we've had a Paralympian visit us here."

Print this page