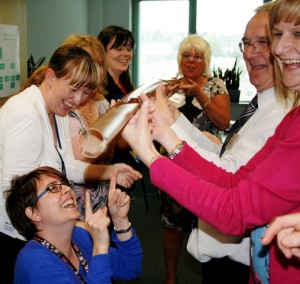 Dealing with change, positive thinking and informative discussions on Hanover's re-structure were the hot agenda topics at our hugely successful staff conferences, which took place across Scotland in June.
Staff from housing developments and offices were treated to memorable talks and team-building games from Tree of Knowledge, who delivered hilarious yet motivating speeches on areas such as "good" and "bad" stress, improving working relationships and working towards common goals.
Hanover's Directors presented plans for their new departmental structures and a dynamic and informative question and answer session provided much food for thought.
Chief Executive Helen Murdoch – who delivered a motivational story of her own about how she went from being a reluctant jogger to running the London Marathon – was very pleased with the outcomes.
I was delighted to see and speak with so many of our staff.  It was really good to meet up with old friends and welcome new faces.  Judging from the feedback, the conferences have been an outstanding success and Gavin and Dee from Tree of Knowledge have inspired us all – both personally and professionally. At the conferences, I asked 'Can we achieve a pure dead brilliant conference?' – and the answer is an outstanding and resounding 'Yes'!
Staff were encouraged to give their views via a number of methods, and feedback was carefully collated with a view to shaping future events.  Comments included:
"I hurt laughing! I feel happy and positive and learned so much about myself and where I can improve my attitude."
"Good explanation of why change is necessary – made to feel easy with change and look forward to the benefits to me, our residents and our colleagues."
"As a long-term member of staff having attended many conferences, I think this has been the best, most inspirational, interesting, positive and wonderful day."
Pictured: staff get to grips with a team building game.

Print this page