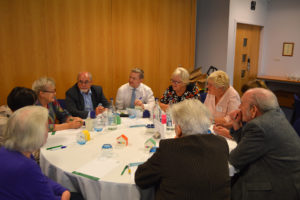 Tenants of our housing developments across Scotland came together on Tuesday 23 August for our second Tenants' Conference, held in the stunning surroundings of the Stirling Court Hotel.
One of the biggest highlights of the day was an exclusive play, called 'Time for a change', which dealt with adapting to a new service and performed by the esteemed Talkmor Theatre Company. The play's stars stayed in character for a fascinating question and answer session after the performance.
This was followed by a workshop with Hanover staff, allowing delegates to discuss issues raised by the play and also their experiences of customer services within Hanover.
After a tasty lunch, the afternoon featured a variety of entertaining and informative workshops, including chair-based exercises, healthy eating, advice for getting online and a discussion on making the most of your money. The day was topped off with ex-Radio Clyde DJ Dave Marshall taking delegates on a trip down memory lane with songs and anecdotes from the 50s and 60s.
Following the event, feedback was very positive. Comments included:
Thoroughly enjoyed the day here – a lovely location, well looked after, good talks and fun. Lunch was beautiful. Thanks Hanover."

This was my first conference, and I hope it won't be the last."

Excellent. So nice to meet folks from so many difference areas. Upbeat and great participation by tenants and staff!"
Helen Murdoch, Hanover's Chief Executive, said:
It's always fantastic to spend time talking with our tenants and the conference has been an immense success. I was delighted that so many residents travelled from far and wide to take part, and I'm thrilled with the feedback with many positive comments, as well as some very good suggestions for future events. I was delighted with our speakers and the sessions – I think everyone took a lot of really useful information away with them.

More importantly, it was a great opportunity for so many of our senior staff and board members to hold informal discussions with residents; answering queries and discussing how Hanover moves forward in the future – and there are some very exciting times ahead.

We've really build on the success of previous events and I'm really looking forward to welcoming even more residents next time. My sincere thanks goes to everyone who took part and the staff involved with arranging the conference. "
Pictured: Gary Devlin (centre), Hanover board member, talks to residents and staff at the Conference.


Print this page