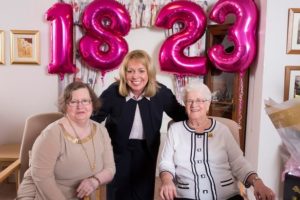 Two Hanover residents got together to celebrate their very special birthdays yesterday – on February 29th.
Christine Crone (72) and Cathy Bowman (92) have only managed to celebrate their 18th and 23rd birthdays (respectively) as they were born on the date that only occurs every four years.
After realising there were two 'leap-year babies' living on Hanover's developments, the association decided to bring them together to celebrate their milestones.
They were presented with cakes, balloons and flowers as part of the event, which took place at Kings Park Mews in Castlemilk, Glasgow.
Family, friends, staff and neighbours all joined in the event and Janice McDonald, Enhanced Housing Manager for Hanover, said:
To have two residents both in the Glasgow area who were born on February 29 is remarkable, when you consider how few people share that birthday. We felt it was important to do something special to mark the occasion.

We do a lot of work across generations, with older people passing on their skills and younger people learning and sharing their own unique knowledge as well.
Many happy returns ladies!
Pictured are leap-year babies Christine Crone (left) and Cathy Bowman (right), along with enhanced housing manager Janice McDonald (centre). 

Print this page