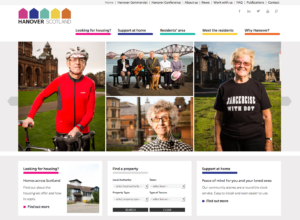 We've taken a long look into the future to make sure we're ready to welcome the next wave of residents coming our way. Our new website is officially launched today and aims to ensure our customers have a selection of housing choices at their fingertips.
The re-launch of our website, as part of our exciting re-branding, comes as a response to the increasing number of people in Scotland's ageing population who will be seeking accommodation now and in the future.
We want to offer "simple solutions" in terms of helping older people to find a home in which they will feel safe and secure, whilst maintaining their independence.
The new site utilises case studies of real Hanover residents and on location photography across a number of regions in Scotland, highlighting the spirit of independence a resident can enjoy with the backdrop of a closer and safer housing community.
In-depth research was conducted by BOLD marketing agency, part of Community Enterprise Scotland, who undertook workshops with residents, staff and other key stakeholders to help define the brand and make it even more identifiable as a warm and welcoming housing association.
Helen Murdoch, our Chief Executive, said:
Many older people are proficient at using technology and can surf the net with ease. We recognised that our previous site was difficult to navigate and we had to modernise our approach to match changing demand. With greater numbers of people living longer and on their own, the way people want to live has changed considerably, with more people wishing to live alone but in closer connected communities.

The website has a clear selection of options that align with the type of care people require at any one stage without losing their independence. From being independent in their own rented or owned home, with a greater opportunity for community living and joint activities; and living in sheltered, very sheltered or amenity housing and on-site care and telecare services – we have taken great consideration on the future needs and requirements of our older people.

Outstanding customer service is paramount both for today and tomorrow and we aim to ensure that it is underpinned by first class support services to meet the needs of our customers. We take great pride at Hanover (Scotland) in being upfront with our potential customers what they can expect from us and now and in the future. Our new website will go a long way to address this along with our drive to create safe and secure housing and healthy, connected communities."
John Ayscough, Director of BOLD marketing said:
It's vitally important that potential customers can find the Hanover website signposted by a recognisable and eye-catching logo. So, by distilling the responses from our research to address the instant recognition factor – we created the row of colourful houses and brought the site to life with the "Meet the Resident" case studies to really bring the human element into play."
We hope you enjoy the new website and as always, we're also happy to receive any comments or suggestions – click here to tell us what you think!.

Print this page