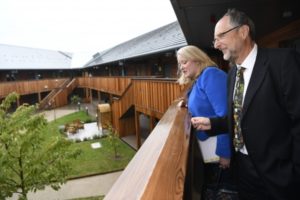 Christina McKelvie MSP opened Hanover Scotland Housing Association's Linkwood View development in Elgin this morning.   The development was built by Springfield Properties in partnership with Moray Health and Social Care and the Scottish Government.
Linkwood View welcomed its first residents in September 2017 and is specially designed with innovative high-quality services including dementia, wheelchair adaptation and Extra Care facilities.  The site has won multiple awards including Social Housing Development of the Year by Premier Guarantee and a commendation from the Saltire Society who said it provided "a template to provide future care to a growing elderly demographic with dementia."
The development comprises:
6 flats designed for dementia with design guidance from the Stirling Dementia Design Service

4 flats designed for varying degrees of physical disability in conjunction with occupational therapists and tenant requirements

22 care flats capable of being adapted to suit occupants' needs, physical or mental health related, with an innovate in house care service.
Key innovative design features of Linkwood View include:
Dementia design features such as glazed kitchen units, contrasting switch and socket face plates and skirtings.

Courtyard typology which creates a safe environment that can cater for varying stages of dementia & elderly care.

Flexible floor plans offering open or closed plan layouts, with flats designed to adapt to the changing needs of the residents.

External walkways creating opportunities for residents to interact and larger flats with additional bedrooms encouraging family to stay or have study rooms/home offices for continuing an active life.
Christina McKelvie was given a detailed tour of the site, meeting staff and residents.  She also met with children from the Magic Roundabout nursery which borders Linkwood View.
To encourage intergenerational interactions, Hanover has gifted a small part of the large garden area of Linkwood View for the nursery to maintain to allow them to grow their own plants and lowers.  Not only has this assisted with outdoor educational activity for the children, it has engendered an intergenerational understanding between the residents and the nursery children.
Helen Murdoch, Chief Executive of Hanover Scotland, said: "We are delighted that the Minister has been able to officially open Linkwood View and see the innovative approach we have taken to ensure we have suitable housing for older people, linked to their health and social needs.  Linkwood View is part of a major investment by Hanover Scotland in the North East of Scotland, totalling £29.5m since 2015."
"As well as innovative design and facilities, we are also committed to better engagement with residents and the local community.  At Linkwood View, children from the nearby Magic Roundabout Nursery have been involved in the project from the beginning, being able to see the construction progress and also now an ongoing role with part of the garden, encouraging interactions with residents."
Christina McKelvie MSP, Minister for Older People and Equalities, said: Ms McKelvie said: "It's great to see a second development by Hanover Scotland linking housing and care for older people in one setting.
"This is a really good example of the kind of innovative thinking we want to see around the care for older people as and when they might need it.  It allows older people to retain their independence for longer, which is so important, and can also tackle other issues such as social isolation."
Springfield Properties Group Partnerships Managing Director, Tom Leggeat said: "It's great to bring the Linkwood View community together to celebrate what Springfield, Hanover Scotland and Moray Council have achieved here. "
"This facility has made a huge difference to elderly people in Moray as well as their families. It's been really rewarding to be involved. Following the success we've had with this project, Linkwood View has been used as a template for similar prospective facilities elsewhere in Scotland in partnership with Hanover."