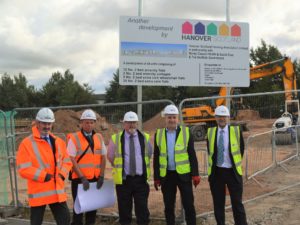 A new social housing development for older people at Spynie in Elgin, which is designed to bring health care into the community, has been welcomed by the local MSP as he visited the construction site.
Richard Lochhead MSP visited Hanover Scotland's new 44 home site at Spynie, which is being developed in partnership with Health & Social Care Moray (the new Integrated Joint Board involving Moray Council and NHS Grampian) and the Scottish Government, and will be built by Robertson.
The new development, which will be known as Hamilton Gardens, is expected to open in autumn 2019. It will consist of 44 two-bedroom homes, ranging fr  om amenity flats and cottages to extra care flats with five specially designed to accommodate wheelchair users. It will also have a common room for residents to socialise in, a kitchen and two offices.
The development has been designed to meet the needs of older people who require different levels of care and support, allowing them to receive this whilst living more independently in their own home.
Hanover Scotland has 26 developments in Moray, including Varis Court, an innovative housing complex for older people that uses pioneering design and research to bring health care into the community, which was opened by the First Minister in July 2017. Hamilton Gardens is one of two developments that Hanover Scotland is currently delivering in the Elgin area, the other being at Stonecross.
During his visit, Mr. Lochhead met with senior managers from both Hanover Scotland and Robertson and was given a tour of the site, hearing of the special design features that will be present in the development.
Commenting on the visit, Richard Lochhead MSP said: "It was great to meet Hanover Scotland and Robertson who are working to deliver this key development at Spynie and to hear how people's individual needs will be met here. The benefits of providing good quality care in the community that allows older people to retain their independence are well known, and this kind of modern, purpose built housing is much needed in Moray. Many families are going to be well served by this new development and I'm looking forward to seeing these new homes once they're completed and to hopefully meeting the residents who will benefit from this investment."
Mike Martin, Chair of Hanover Scotland, said: "When completed, this important development at Spynie will provide a range of homes to suit the different needs of older people, allowing them to receive care and support in the community. We are proud to be working in close partnership with Health & Social Care Moray to deliver this much needed specialist social housing for older people in the local area. I would like to thank Richard for taking the time to visit the site today. We hope he will be able to return later next year to see the finished site and meet the new residents."
Frank Reid, Managing Director, Robertson Northern said: "We are proud to be part of a project that will genuinely enhance the lives of those living in the new homes. I am pleased to say that the site team at Spynie are making good progress and are on track to complete the development by autumn 2019. We have delivered several affordable housing projects with Hanover Scotland in the past, including Forres, Fort William and Fochabers. We know the pride they take in delivering quality homes and we share the same values and standards, which is why we believe we are the ideal partner for this Elgin-based project."